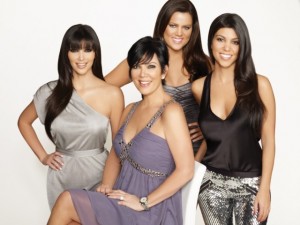 It is easy to dream about success, but to actually bring it into existence is another mental  journey all together.  In this day and age of microwave instant success and fame, building a family business in front of cameras is not always easy to do.  There are some in Hollywood who do not protect their brand by tarnishing their image with behavior that will allow them to never make any substantial business moves.  On the part 2 episode of the Kardashian Wedding the big "brand" discussion comes up when Kim ponders changing her last name to Humphries.  Kris Jenner immediately jumps into business mode and explains to Kim that she is a "brand".  To show you how serious she about this she explains that "You are incorporated as Kim Kardashian, Inc."  Now I do not agree that everything should revolve around the acquisition of money.  But when you "are" the brand long range visionary thinking has to come into play when making decisions.  Kris Jenner even brings Kim into the office to show her examples of how the Humphries last name may affect the future marketing of their "brand".  While some concentrate on their public image only, for the family business is always considered highly.  Especially when many Hollywood marriages tend not to last.
Another important part of the Kardashian family's success is Ryan Seacrest and his production company which handles their shows.  Ryan Seacrest has also parlayed his success into the building of a personal empire.  He has been able to focus on making himself a franchise by leveraging his talent and time into different areas.  He makes over $55 million per year with multiples streams of income.  I am not obsessing on money but these are just good business moves.  Here are some of the components of his business ventures:
$15 million a year from "American Idol"
Radio nets him $15 million a year (a weekday local and national show "On Air with Ryan Seacrest" and "American Top 40"
$15 million from Comcast (Daily Gossip Roundup, E! news, celebrity coverage, and the Kardashian brand
He has brand deals with miscellaneous companies Proctor & Gamble, Microsoft Search Service Bing which net him $5 million.
Behind the wedding and all of its outer glitz and glamour there is much business being conducted beneath the surface.  This is just a different look!
Category: Entertainment News