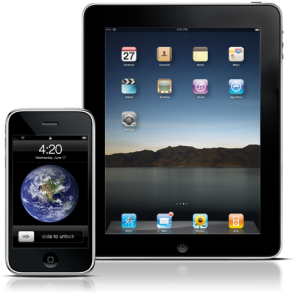 The technology that is provided within the Smartphone and the Tablet is changing how personal computing can be applied in our daily lives.  Now the smart phone is becoming the new computer.  The Tablet was considered great to support E-books and good for internet use initially.  With the expansion of their functionality they now are beginning to eclipse desktops in their importance due to lightweight transport.  Through the IPAD you can even download an APP and watch your cable shows via wireless signal as you walk throughout your home.  The idea of the Smartphone as a daily used portable computer was predicted by Microsoft founder Bill Gates in his 1995 book "The Road Ahead".  I am sure his vision was not the only one at this time, but it is very interesting how his description of a future product matches the IPHONE and other Smartphones of today.  Remember this was published in 1995.  Here are several quotes from Bill Gates book which details his description of what he calls  the "Wallet PC":
"Notebooks are the smallest and most portable real computers today, but we'll soon have pocket-size computers with snapshot-size color screens.  When you whip one out, nobody will say, "Wow! You've got a computer!"
"You'll be able to keep equivalent necessities and more in an information appliance I call the Wallet PC.  It will be about the same size as a wallet, which means you'll be able to carry it in your pocket or purse.  It will display messages and schedules and let you read or send electronic mail or faxes, monitor weather and stock reports, and play both simple and sophisticated games.  At meetings, you might take notes, check your appointments, browse information if you're bored, or choose from among thousands of easy-to-call-up photos of your kids."
"Wallet PC's with the right equipment will be able to tell you exactly where you are anyplace on the face of the earth. The Global Positioning System (GPS) satellites that orbit Earth right now broadcast signals that enable jetliners, oceangoing boats, cruise missiles, some cars and even hikers with handheld GPS receivers to know their exact locations."
"The Wallet PC will connect you to the interactive network while you travel and tell you where you are.  A voice from its built-in speaker will let you know that a freeway exit is coming up or that the next intersection has frequent accidents.  It will monitor digital traffic reports and warn you that you'd better leave for the airport early, or it will suggest an alternate route.
"Other Wallet PC's will bristle with all kinds of gadgets: cameras, scanners that will be able to read type."
If you take a close look at the current IPHONE (and other smartphones) you have many of its features already depicted above.  If you just add the cellular phone aspect to these features you have a souped up Smartphone.  It definitely took more than a decade to actually implement the technology and create Smartphones that would be marketable to consumers.  But at the time of those predictions cellular phones were absolutely a far cry from this proposed "Wallet PC".   As Smartphones and Tablets advance technologically they are replacing the special place that Desktops held in the hearts of consumers.  The IPHONE 4S now has a voice command technology called SIRI whose engine is Artificial Intelligence based and was also predicted as well.  The Smartphone and Tablet Killed the Desktop PC.  We will touch on this in Part 3.
Category: Entertainment News, Life Style, Tech Talk