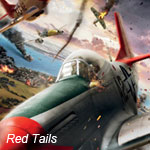 The story of the Tuskegee Airmen during World War II comes to life.  RED TAILS is a movie about African American fighter pilots who fought the Nazis' overseas and had to battle discrimination at home.  The movie screenplay was written by George Lucas himself.  RED TAILS will be produced through Lucas Film and distributed by 20th Century Fox.  George Lucas has had this movie as an idea and has been researching and planning it as a labor of love for 20 years.  Lucas has hired the successful TV director Anthony Hemingway who is best known for his work on: The Wire, True Blood, CSI: NY,  and Treme.  RED TAILS is scheduled for release on January 20, 2012 in the United States.  Terence Blanchard has done the composing honors for this movie.
RED TAILS was shot in approximately 50 days in Prague and Croatia in 2009 using Sony F35 High Definition cameras.  Many scenes of the movie were shot at an abandoned Soviet air base outside Prague.  Director Anthony Hemingway worked with Industrial Light and Magic (summer 2011) to supervise over 1,000 digital effects shots that were made to enhance the movie.  It is good to note that Lucas Film invited some of the original surviving Tuskegee Airmen to Skywalker Ranch for research interviews concerning their experiences during World War II.  Since RED TAILS is not necessarily a complete historical movie, there will be a 2 hour documentary about the Tuskegee Airmen to be called "DOUBLE VICTORY".  The starring cast includes some heavyweight actors below:
Brian Cranston – ("Breaking Bad")
Michael B Jordan  – ("The Wire")
Daniela Ruah
Terrence Howard
Tristan Wilds – ("The Wire")
Andre Royo – ("The Wire")
Ne-Yo (Singer)
Method Man (Rapper)
I hope that this movie is capable of living up to the press that precedes its January 20, 2012 release.  With all of the names and tools used to make this film, we will see!!
Category: Entertainment News