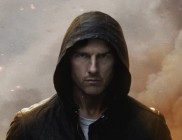 The new MISSION IMPOSSIBLE movie starring Tom Cruise is directed by Brad Bird (The Incredibles).  The movie producers are: Tom Cruise, J.J. Abrams(MI: 3), and Bryan Burk.  The film was shot in Dubai, Prague, Moscow, Mumbai and Vancouver.  This time around the film was also shot in the IMAX format.
The plot of Ghost Protocol is situated around a terrorist bombing which takes place in the Kremlin (Moscow).  At the time of this bombing Ethan Hunt is on duty and involved in an undercover operation for the IMF in Moscow.  The Russian Government considers this an act of war which causes the US government to unleash an operation called: Ghost Protocol.  The Paramount pictures film will be released worldwide on December 21, 2011.  The special IMAX release will be on December 16, 2011.  Given the quality and worldwide appeal of the past movies you can be sure there will be much action, and drama.  There are some new fantasy technologies that will be displayed in the movie.  Some of the technologies are similar to those in the James Bond movies.  They are beyond current technology but help assist with the plot.  Here are some of the 5 new movie technologies that will be displayed in the new MISSION IMPOSSIBLE movie:
A Self Destruct IPHONE – The data will erase so there will not be any interception of top secret information.
A Self Destruct USB Flash Drive.
Adhesive Gloves that will enable the user to crawl up a wall.  Tom Cruise uses these gloves to climb up the Tallest Building in the World in Dubai.  There is research being done on a fabric in the real world that will allow such hand climbing.
A special computing device that allows the user to wave an electronic chip over a flat LCD screen surface (resembling a table visually) and the information on the chip is displayed on the screen.  A similar technology is currently being developed by Microsoft called Surface to be used for commercial business applications.
There is a Special BMW in which the more you drive the car the more it's energy is maximized as well as it's fuel efficiency.  As you drive the car is being charged overall.
Some of the actors in the movie include:
Tom Cruise as Ethan Hunt
Ving Rhames as Luther Stickell
Jeremy Renner as Brandt
Tom Wilkinson as IMF leader
Josh Holloway as Trevor Hanaway
The much anticipated 4th movie in the MISSION IMPOSSIBLE franchise is about to be released and we will see how the saga actually continues.
Category: Entertainment News