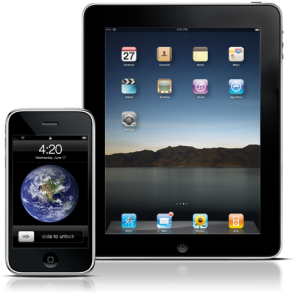 When the Artificial Intelligence Voice Command program SIRI on  the IPHONE 4s become standard for the IPAD and even with the (forthcoming) APPLE TV there will be less of a need for the Desktop PC.  As stated on an earlier post, Apple bought the A.I. technology as an APP for approximately $200 million a few years back.  When this technology becomes the standard for the IPAD, this will allow the tablet to take voice commands anywhere you are, whether in the house, office or even outside.  With the ability to execute and follow through on spoken commands the Artificial Intelligence driven SIRI APP redefines the future of Smartphone and Tablet capabilities.  Unlike the GPS devices in which you would have to type in your commands and wait for the blow by blow directions to guide you to your destination.  An App like SIRI will soon only be limited by the users ability to think and execute commands verbally.  The consumer would be less confined to a keyboard connection to communicate with and execute functions.  This would take the consumer into a hands free relationship with their Smartphone and Tablet.  This type of relationship would allow for a more intuitive (thought to speech) connection with their technology gadget of choice.  The keyboard would no longer be the middle man in this equation.  Also as the consumer uses the system this A.I. driven App is taking all of your commands and actually "learning" from your requests thereby allowing for similar options to be given to you based on the history of your usage.  The Smartphone and Tablet Killed The Desktop PC.
With the advent of a new APPLE TV which will be able to link all of your Smart devices with it and with the I-Cloud technology the future necessity for a Desktop PC seems grim.  With an App like SIRI all of the Smart phones, Tablets and the APPLE TV will be improved exponentially.  I believe APPLE should just license the SIRI technology to the cellphone and tablet companies in a similar fashion to how Microsoft does with it's operating systems.  Just imagine being able to control all of these devices with an A.I. driven App that can learn from your command habits and make informed decisions in its response to your requests.  In the 1995 book "The Road Ahead" Bill Gates touches on the possibilities of Speech Command with computer technology:
"Eventually we'll also be able to speak to televisions, personal computers, or other information appliances.  At first we'll have to stick to a limited vocabulary, but eventually our exchanges with our appliances will become quite conversational."
"The speech recognition capability requires powerful hardware and software because talk that a human can understand effortlessly is very hard for a computer to interpret.  Speech recognition works fine already for a small set of predefined commands, such as "Call my sister," but it's much more difficult for a computer to decipher a sentence it isn't prepared for."
"Lip reading will be one benefit of the video cameras that will become standard PC equipment once videoconferencing is popular.  A camera will also let the PC recognize who is using it so that the PC can better anticipate the person's needs or carry out policies."
You can recognize the reference to videoconferencing which would be SKYPE today.  All of these things were speculations in the 90's, and now these technologies are quickly becoming realities as time passes.  Computer technology will continue to transform and change, so whether or not a Desktop PC exists there will be something to replace it that will enhance  our lives.   We will see how this discussion plays out in the real world.  The Smartphone and Tablet Killed The Desktop PC.
Category: Entertainment News, Life Style, Tech Talk