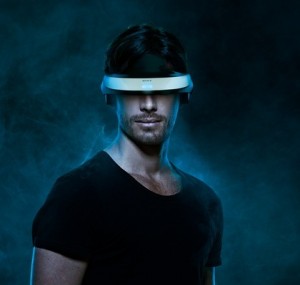 SONY has another innovative product in their lineup.  It is the SONY Personal 3D Viewer.  This product takes 3D viewing to another level.  This Personal 3D Viewer the HMZ-T1 is designed to bring a realistic movie theater experience within a virtual 3D environment.  The SONY HMZ-T1 gives the user a movie theater experience within your home without theater distractions.  Is this SONY Personal 3D Viewer the beginning of the end of the movie theater?  Technology is changing the times we live in by leaps and bounds.  In the future when technology like this SONY HMZ-T1 player becomes more prevalent what would be the need for the long lines, expensive snacks, and unsatisfactory viewing environment.  With a piece of technology like this the movie going public could have another viewing option to add to its list down the line.
Here are some of the amazing specs of the SONY HMZ-T1 that will help you understand the innovation involved with this product:
2 "Immersive" OLED screens.  The screens have been designed to emulate the specs of a 750″ theater screen which is 65 feet from the viewer with a 45 degree field of view 1.5 times wider than your standard TV.
The SONY Personal 3D Viewer has technology which is called Brilliant HD that brings the user images that are reproduced with crystal clear quality.  All of the subtle details in the film become more clear and recognizable.
The SONY Personal 3D viewer has separate OLED screens for the vision of each eye.
The Personal 3D Player generates sound with an innovative 5.1 virtual surround sound system.  The surround sound quality of the audio helps this system recreate a theater like atmosphere in your home.
 The Personal 3D Viewer is designed to allow for custom fitting.  You can make changes with:  a. Forehead support  b. Headphones  c. Light Blocker (used to block light from the room you are in)  d. Eye piece adjustment  e. Forehead support.
A processor unit which allows the user switch between: Standard TV, Cinema, Audio Video, and even with a switch for loading video games for the user.
The SONY HMZ-T1 was actually created with the intent of bringing forth theater quality images, surround sound, and 3D viewing capabilities to the public.  The possible future of cinema has reached the present moment.
Category: Tech Talk