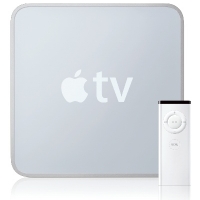 With the APPLE TV you are able to integrate all of your entertainment needs through obtaining one central box.  Imagine being able to seamlessly integrate: movies, TV shows, Net-Flix, You Tube, Vimeo, Flickr, Sports News and more.  For those who are willing to try the APPLE TV it seems to be a look at the future of TV and even Cinema.  It is a step forward in that, through this one APPLE TV box you can have the luxury of entertainment fused with the information contained on the Web.  For example if you are interested in a movie, you as the user can bring the movie review up and watch the trailer at will.  This is where cinema will meet home entertainment in the future.  I truly believe that movie theaters will be replaced with content integration devices like the APPLE TV component.
With the APPLE TV component you will be able to purchase top TV shows for $2 to $3 and download them to your IPAD, IPHONE, IPOD Touch or computer with no additional fees.  Also if you have purchased any show content on one of your Apple devices the APPLE TV identifies it as a prior purchased item and the APPLE TV can sync with the device and allow you to watch it.
Another amazing feature of the APPLE TV is the ability to stream music, photos, and videos from sources other than your computer.  APPLE TV has a feature called AIRPLAY through which you can stream music, photos, and videos from your IPHONE, IPAD, and IPOD TOUCH.  Therefore anything you have stored on your devices can be played on your larger HDTV screen for your family and friends to view.  You will be able to display pages on the web, even excel spreadsheets, games, videos and more on your HDTV screen for everyone to see.  The APPLE TV component is able to completely mirror whatever screen changes you make on your IPHONE, IPAD or IPOD TOUCH.  So to recap, if you are watching a movie you will also be able to (through wireless connection) watch that movie on your computer and APPLE devices.  This is all made possible by APPLE's I-CLOUD technology.  Here are some of the specs for this APPLE TV connectivity box:
The dimensions for the APPLE TV box are: Height: 0.9 inch, Width: 3.9 inches, Depth: 3.9 Inches, Weight: 0.6 pound.
The Processor is an APPLE A4 Chip.
The Ports and Interfaces include: HDMI (2), Optical Audio, 10/100 Base-T Ethernet, Built-in IR Receiver and a Micro-USB.
There is a built in 6 watt power supply.
WI-FI (802.11 a/b/g/n)
The APPLE TV is compatible with most popular High Definition TV's that have HDMI with viewing (spec) capabilities of 720p 60/50hz.
The APPLE TV allows the user to integrate their content and devices seamlessly.  Apple brings the future to the present moment with this content integration device.  We can only speculate what the next generation of APPLE TV will bring to the technology fold.
Category: Tech Talk