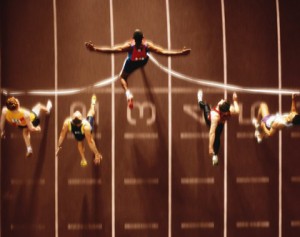 We are surrounded on all sides by color images, conversations, the latest digital gadgets, TV, internet, movies and the very scenes we walk into and through everyday.  We are surrounded by gossip, opinions, and all manner of ideas that are showered on our minds daily.  Some of our friends, foes, and associates may try to convince us that the odds are limited for us to accomplish our goals.  Through all of this, we strive to see the finish line.
These same individuals applaud others they see on TV, in films and admire their achievement of success which was against all odds.  But when they look at us, they say we need to be realistic about our goals.  I believe we ought not be realistic, but we need to be able to have the kind of faith that allows us to see in the dark.  In that darkness, we strive to see the finish line.
We need to know that we have already crossed the finish line with the gift of success safely tucked within our pocket.  Clearly seeing the finish line in the midst of doubt, suspicion and fear is a requirement for many of us striving to achieve some form of greatness.  We strive to see the finish line, because seeing a victorious outcome through our focused mental lens subtracts the doubters from our successful daily script.  We have to practice seeing the outcome as we run towards victory, because seeing obstacles can slow down our pace.  Taking our minds off of the victorious finish line means we may have to look at and tune in, on mental frequencies that have nothing to do with success.
One of the greatest gifts to possess is a focused, loving tunnel vision in which failure is not allowed to be an option.  There could be mental: landmines, bombs, explosions, fires and complete disaster all around us, yet through it all we strive to see the finish line.  That finish line is all that matters regardless of the atmosphere, weather, terrain, and storms we are exposed to.  It is not easy to achieve and maintain this mentality, but we cannot be totally distracted and be a victorious participant in the game of life.  Let us put all of our passion into creating a focused, and empowered tunnel vision that destroys distractions as soon as they appear.  We should mentally delete them as quickly as plucking a fly off of our shoulder, because the finish line is the only idea that exists in  our daily journey.  The finish line is the object we zoom in on, magnify, and highlight in complete 3D.  We strive to see the finish line and we are completely focused.
Category: Life Style