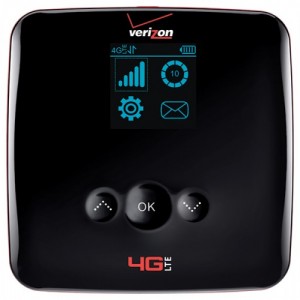 Imagine being able to take your Wi-Fi connection with you.  You will not have to depend on whether or not your Wi-Fi connection is strong.  Sometimes trying to tap into an already existent  Wi-Fi connection can be a  burden.  It would be very convenient to be able to take your Wi-Fi connection with you.  This will empower your laptop to be operational at all times.  If you are a professional and must have a signal regardless of where you are traveling, the VERIZON Jetpack Mi-Fi 4G LTE may be the solution for you.  With the strong vital 4G signal from VERIZON the computer user will be able to create an On Demand workstation in the actual environment of their choice.
The major features of the VERIZON Jetpack 4G LTE Hot Spot include:
The Hot Spot 4G LTE mobile is broadband and mobile broadband capable.
The Mi-Fi Hot Spot has download speeds of 5-12 Mbps and quick upload speeds of 2-5 Mbps.
The user can connect up to 5 Wi-Fi enabled devices at a single time.
This product is 4G SIM Card Compatible.
The Hot Spot has a high performance internal antenna.
There is also an External Antenna Connector which is sold separately.
The Mi-Fi Hot Spot has a Global Data Roaming feature.
The Weight for this product is: 3 oz.
The battery life for  the Hot Spot is up to 5 hrs.
The compatible internet browsers are: Windows 7, Vista, XP, Mac OS X 10.4.0 or higher.
The VERIZON Jetpack 4G LTE Mobile Hot Spot Mi-Fi is definitely for the computer user who must have an On Demand Hot Spot wherever they are going.  It would definitely be for the individual who has a need for working and being able to get a strong signal in "odd" areas.  For any avid computer user to be able to create a Hot Spot will definitely add to the surfing experience.  Imagine not being able to conduct business or complete a project because of a signal disruption.  The VERIZON Jetpack 4G LTE mobile Hot Spot Mi-Fi 4510L is a special solution when a signal is lacking and may be the product for you.
I
Category: Tech Talk