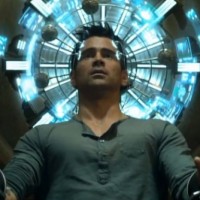 The new movie TOTAL RECALL remake will be released on August 3, 2012.  The movie is based on the 1966 short story "We Can Remember It For You Whole Sale" by Philip K. Dick.  The plot of the new movie TOTAL RECALL is similar to the 1990 original movie it is based on.  The main difference is that there is not a trip to Mars in this movie.  The movie is being directed by Len Wiseman.
The plot of the new movie TOTAL RECALL is based in the year 2084.  Two major world regions are in a fight for political power.  The two major regions are Euroamerica and New Shanghai.  The movie is based around a factory worker who is suffering from nightmares laced with violence.  These nightmares lead this factory worker to believe somehow he is a spy whose memory and personality were deleted. The factory worker is played by Colin Farrell who teams up with a freedom fighter to correct the corrupt political system of their country which is Euroamerica.
The cast of the new movie TOTAL RECALL will include the following actors:
Colin Farrell          as          Doug Quaid
Jessica Biel          as           Melina
Kate Beckinsale          as          Lori
Bill Wighy          as          Kuato
Bryan Cranston          as          Vilos Cohagen
John Cho          as           McClane
Ethan Hawke          as         An Euroamerica Scientist
Bokeem Woodbine         as          Harry
Steve Byers          as          Henry Reed
The New Move TOTAL RECALL is going to be distributed by Columbia Pictures with a total budget of $200 million.  The musical score for the film was composed by Harry Gregson-Williams who has also scored: Antz, Man On Fire, Shrek, Chronicles of Narnia: The Lion, The Witch, and the Wardrobe, The Game: Call Of Duty4 Modern Warfare and X Men Origins: Wolverine.
The New Movie TOTAL RECALL is coming to a theater near you on August 3, 2012.  We will see if this remake will make an impact on the movie going audience in the upcoming summer season.
Category: Entertainment News