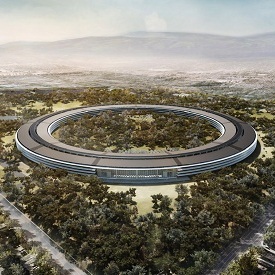 It is obvious that Steve Jobs was not just focusing on his companies products towards the end of his life.  Beyond the New IPAD, I-Phone, the IPOD Touch, the MAC Air and MAC MINI there was a more broad vision coming from this man.  Steve Jobs had plans to create a campus to take his vision, philosophy and concept of "the reality distortion field" and bring it all together.  The new think tank that will house where APPLE employees will work and research new products, will be the New APPLE Spaceship Campus.  The New Apple Campus will be shaped like an actual spaceship and is set to be finished in 2015.
The New APPLE Spaceship Campus will be 2.8 million square feet.  It will be self sustained in that it will have its own power plant.  The top of this spaceship like structure will be covered with Solar Panels which will help to power some of the functions of the building.  The New APPLE Spaceship Campus will be able to house up to about 13,000 people daily.  There will also be about 6,000 trees evenly spread across the campus.  There will also be a 4 story building that will end up being a research facility.  There will be a 1,000 seat auditorium to be used for events and the unveiling of new products.
Steve Jobs and company bought the site when HP abandoned the campus area in the year 2010.  Steve Jobs wanted to leave a campus that would be able to interpret the original and evolving values of APPLE for generations to come.  He obviously clearly understood the impact his products had on society and wanted this effect to continue on, by creating the perfect environment for employees to free their minds to use the now famous term: "the reality distortion field".
Steve Jobs ended up hiring a team of 50 architects to help with the design of the New APPLE Spaceship Campus.  Within the campus there will be about 26 buildings to be raised on the site which will be surrounded by grass, trees, and more.  Steve Jobs goal was to make "the best office building in the world".  The campus is a 126 acre space which will have walking areas surrounded by wood, with restaurants and fitness centers.  May the building of this campus be a challenge for us to complete our own dreams so that our legacy can live on perpetually!  Our ideas should not die when we leave this earth.  The New APPLE Spaceship Campus is a testament to this.
Category: Tech Talk