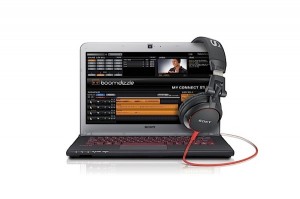 LL COOL J has surely come along way since releasing his first single "I Need A Beat" in 1984.  He was officially the 2nd artist signed to Rick Rubin's label Def Jam.  The first artist actually signed to Def Jam was the artist T LA ROCK just before LL released his first single.  LL has released several albums, done television shows, movies and is one of the stars of the CBS hit show NCIS Los Angeles.  LL COOL J is now diversifying his portfolio and making inroads in the technology arena.  LL COOL J has been part of the creation of a website called Boomdizzle which allows producers from around the world to collaborate from one central site.  This means that a producer can introduce a track and an artist across the planet can add their vocals and the 2 can collaborate in the mix process as well.  To sum it up he has a new product: LL COOL J Future Sounds My Connect Studio with SONY!
In Partnership with SONY, LL COOL J is taking the concept of his site Boomdizzle and the technology, marketing, and history of SONY to create a product: LL COOL J Future Sounds My Connect Studio with SONY!  The Future Sounds My Connect Studio is a software and hardware product bundled together.  This product is a laptop, software, headphone bundle with SONY quality built right into it.  The consumer gets a SONY Laptop, Headphones, and SONY / Boomdizzle software.  This bundle will allow musicians in 2 different locations any where in the world to mix, brainstorm and create songs at the same time.  The Future Sounds My Connect Studio comes with a SONY VAIO E-14p notebook.  This notebook weighs 5 lbs, has a 14-inch screen which is: 1600 by 900 pixels.  The E-14p comes with a dual core 2.5 ghz Intel Core:  5 processor; with 8 GB of 1600 MHZ memory, and a 750 GB hard disk.
This product will help to erase many of the dividing lines as it relates to today's music.  We have lived in a world where the music industry only used star producers and collaborators.  This will allow producers from all walks of life, from any country on earth to help create a musical environment with less boundaries, and closed door policies.  If you have a computer and talent your musical contribution can count whether it be a drum track, bass line, melody, or even a keyboard riff.  It is sometimes that finishing touch or riff that can make a song sound more whole and complete.  We are in a world where the consumer is tired of hearing the same formulaic sound in music.  Future Sounds My Connect will help to erase the creative and territorial boundaries that the music industry of the past has helped to erect.  The creative process will now allow individuals from all over the earth to enhance and reinvent the current and future science of sound.
Category: Entertainment News, Tech Talk