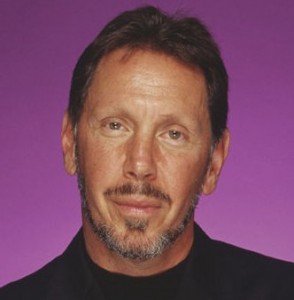 Larry Ellison, the founder of  the Oracle corporation was born on August 17th, 1944.  Larry was born in the Bronx, New York.  At nine months old Larry contracted pneumonia and was sent to live with his aunt and uncle in Chicago.   They later adopted him and accepted him as their own child.  As a youth Larry Ellison had strong math and science skills which would definitely serve him as  a business leader in the technology field later on.  Even though Larry Ellison was named the Science Student of the year at the University of Illinois, he dropped out during his second year.  He dropped out due to the untimely death of his adopted mother.  Not soon after this, he takes a risk by moving to Berkeley, California with almost no money.  Keep in mind that Larry had the basics of computer programming in his psyche from his earlier school days.  Larry Ellison would jump from job to job for 8 years until he eventually landed a job as a computer programmer at the Amdahl Corporation where he took part in creating the first IBM compatible mainframe system.
In 1977, Larry Ellison and two of his Amdahl co-workers who include Robert Miner and Ed Oates, started their own company which was called Software Development Labs.  In 1979 the name of the company was changed to: Relational Software, Inc. which was later changed to Oracle after their top product the Oracle Database was officially released as Oracle 2.
In 1980, Oracle led by Larry Ellison only had 8 employees and their yearly revenues were just below $1 million.  In 1981 IBM decided to use the Oracle Database and its mainframe systems for itself.  As a result of this relationship Oracle's  sales doubled for 7 years in a row.  In 1986 Oracle went public with an IPO (Initial Public Offering) of $31.5 million.
After taking the company public, Larry Ellison made the decision to replace many of the original staff that helped him manage the company before it arrived at the Billion Dollar stage in terms of yearly revenues.   Larry Ellison realized that it takes a different quality of management team to run a company when it is generating revenues of $1 million dollars, than it does at the billion dollar level of yearly revenues.  He has stated in the past that it takes completely different skill sets.  Once Larry hired managers with more experience in dealing with higher revenues, he concentrated on dealing with product development.
In 1992, Oracle released a new version of its database program called Oracle 7.  With this release Oracle became the industry leader in database management software.  In the 1990's Oracle's database programs were used by the largest and most successful: Banks, Airlines, Car Companies and National Retail Chains.  Eventually Larry Ellison and the Oracle team started to integrate their business applications with the internet through E-commerce.  In the year 2000 the profits of Oracle increased by over 70% in one quarter.  Larry Ellison at this point became one of the richest men in the world just under Bill Gates.
In the year 2004, Larry Ellison made the decision to increase the market share of Oracle within the Technology Industry.  Ellison felt that the best way to do this was to strategically acquire companies that already had technologies that would fill a void in Oracles palette of services.  To this end Oracle ended up spending over $25 Billion in about 3 years to accomplish this.  Several companies were purchased some of which include: People Soft, Retek, Siebel Systems, Hyperion Solutions and the manufacturer of software: Sun Micro Systems.  The acquisition of these companies not only increased Oracle's market share but ended up making them the Largest Software Company in the World.
Larry Ellison and the team within Oracle took 7 years to develop the most comprehensive Cloud Technology in the world today as of 2012.  The project was called Fusion.  It took 7 years of work, Billions of dollars to make this happen.  Some of those Billions went into the strategic acquisition of technology companies as stated earlier.  The goal for Larry Ellison and the Oracle team was to make the transition from being an On Premise Application Provider to a Cloud Application Provider.  Oracle had to embrace the task of rewriting and modernizing all of their applications.  Oracle made the investment in developing and creating the next generation of technological advances, while at the same time investing in the current technology which was a difficult task.  They have launched the most comprehensive Cloud Technology on the earth.  There are 100 applications developed by Oracle running on the Cloud today.  These applications provide: Platform Services, Application Services, Social Services and Common Infrastructure Services.  These applications are put together as a Complete Suite.  The applications are Socially Enabled where the users can collaborate and communicate with each other on the Oracle Social Network.  The Cloud database is secure and does not mix one consumers data with another clients data.  The Oracle Cloud System allows the users to shift their work from the Cloud to an On Premise system.  The user has the ability to go back and forth between systems.
Larry Ellison and his company Oracle are definitely at the forefront of technology today.  He was also very close friend to the late Steve Jobs, founder of the Apple corporation.  The accomplishments and the technological advances of Larry Ellison and the Oracle Team show us all that with focus and passion we too can make a mark in our chosen field of endeavor.  It may not be as elaborate and extensive but we can make improvements right were we stand.  We just have to be prepared to constantly improve and make moves to be a leader in our field, no matter what it is.  Larry's beginnings were somewhat humble, yet he was able to place his company close to the pinnacle of Technology Success by having the vision to think ahead of the times.  Our chosen passion does not necessarily have to be in technology, but the principles he has used to accomplish his dreams can be applied across many genre's of personal and public expression.  Most of us will one day be using the Cloud Technology that Larry Ellison and Oracle have developed.  This type of innovation allows society to move forward in the sharing of information, the expansion of the use of Smartphones, Tablets and storing of data beyond physical hardware.  It also shows the human being that we can create, with the assistance of teamwork, anything we can envision.  We just have to be willing to sacrifice the time to build our dreams into concrete reality.
Category: Entertainment News, Tech Talk