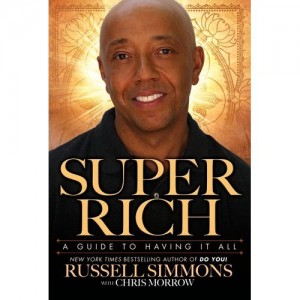 Russell Simmons has been the main visionary who has helped to launch Hip-Hop from obscurity into the mainstream.  His decisions have put him, his artists, fashion companies, and music at the forefront of the entertainment industry for decades.  He even has a financial business which features the Rush Card.  These are feats that go way beyond mere luck or happenstance.  His success has been phenomenal, consistent and is growing to this very day.  Russell Simmons new book SUPER RICH shows how by following your true passion and using certain universal principles, a life of success can  happen for the focused and diligent individual.  Russell Simmons track record should make anyone highly curious about the principles he has used to create his successful career.
In the book SUPER RICH Russell combines the principles behind his practice of yoga, with examples of his success in the entertainment industry to drive home some of the points in his book.  He even shows that some successful individuals have used those techniques to become successful even though they did not know they were using the principles.  In the book SUPER RICH there is a chapter called "Attracting The World" and under the title of the chapter is a quote by Sri Swami Satchidananda which states: "All nature loves an honest person.  He need not run after things, they will run after him."  There are some steps that Russell suggests an individual should take if they want to be successful.  They are described in these paragraphs:
"When it seems like everyone is hustling and trying to "make it", how can you ensure that you're the writer who finds a buyer for his screen play?  The designer who convinces a major chain to pick up her clothes.  How can you ensure that you're the person who rather than fruitlessly chasing success, actually has the world run after you?"
Russell Simmons goes on to explain 2 steps that will go a long way in ensuring success comes to you rather than you chasing it.  The first step is to make sure that your gift is a complete honest expression of what is in the depths of your heart.  You do not create things to follow fads, trends or what you think will make you quick money.  This is very similar to what Bruce Lee wrote in his book "Tao Of Jeet Kune Do".  In this book Bruce Lee writes:
"An artists expression is his soul made apparent, his schooling, as well as his "cool" being exhibited.  Behind every motion, the music of his soul is made visible.  Otherwise, his motion is empty and empty motion is like an empty word – no meaning."
Honest expression is  so sincere and genuine that it carries it's own charisma and magnetism which automatically attracts the world to it.  Step number 2 is where Russell states that you should not keep your gift to yourself while you wait for the right opportunity.  He states that you should give your gift away for free.  He explains that when you give your product away for free from that level of honest expression without fear you will start to generate some magnetic buzz.  Russell states that "They're going to want to find the person who's generating much love and enthusiasm.  And when they find you, they're going to reward you very handsomely.  Certainly more handsomely than if you had come to them begging for a deal."  The artist or creative person just has to make sure they have the ability to reproduce their art, product or service after they give away their initial offerings.
Russell Simmons writes in his book that this is how he achieved his initial success as a young  record promoter for Kurtis Blow with his song "Christmas Rappin".  Since Hip-Hop was a new musical form he knew that approaching the record labels would not work.  He achieved success by giving away all of his promotional copies to all of the club jocks, radio stations, and other industry connects.  As Russell released these records for free, a giant buzz was created and success eventually came for Kurtis Blow as well as the first major label record deal for a Hip-Hop Artist.
The Book SUPER RICH by Russell Simmons is filled with techniques, and spiritual wisdom for the success and enlightenment of an individual.  There is also a lot of information on yoga, as well as the importance of daily meditation.  He even details some of the health benefits of meditation as well.  This book also details much of the business history of Russell Simmons and his road to success in the entertainment industry.  The book SUPER RICH is well worth the purchase and has knowledge that can easily be applied.  It is interesting, funny and a quite compelling read.  Check it out for yourself.  Russell Simmons – SUPER RICH!
Category: Entertainment News, Life Style