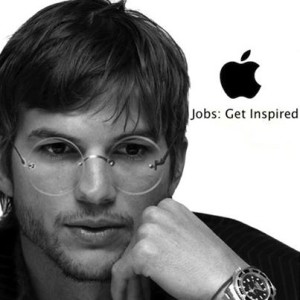 There is a new biographical film based on the life of Steve Jobs and will be in theaters on August 16, 2013.  The focus of the movie will concentrate on the years of 1971 to 2011.  Joshua Michael Stern is the director of the movie.  He was also the director of the political comedy/ drama "Swing Vote" which starred: Kevin Costner, Paula Petten, Kelsey Grammer, and Dennis Hopper.  The new Steve Jobs movie will star: Ashton Kutcher as Steve Jobs and Josh Gad as Apple co-founder Steve Wozniak.  The musical score for the movie JOBS has been created by John Debney.  John has also scored the music for the following movies: The Passion Of The Christ, Iron Man 2, and Bruce Almighty.
Production for the new Steve Jobs movie started in June 2012, which included filming at the actual home Steve Jobs grew up in Los Altos, California.  They also filmed in the actual garage in which Steve Jobs and Steve Wozniak used to create their first computer offerings. The movie JOBS is being distributed by Open Road Films.  The screenplay was written by Matt Whiteley.
The plot for the new Steve Jobs movie entails the very beginning of Steve Jobs start in Silicon Valley.  The movie will also touch on major technological landmarks Steve Jobs and his partner helped bring into existence.  The movie details the events surrounding the choosing of the Apple company name, Steve Jobs trip to India, Jobs getting fired from his own company, his ultimate rebound and the worldwide success of Apple as a company.
Steve Wozniak has actually seen the movie and has expressed some disappointment in some of the inaccuracies that seem to plague the movie in some ways.  Steve has basically expressed that the interaction and roles as the movie depicts is inaccurate.  He also states that the idea of computers having a profound affect on society did not come from Steve Jobs, but from the "Home Brew Computer Club" they attended as youngsters.
We know that Hollywood does take the liberty to mold and shape biopics as it sees fit.  I believe that Hollywood tends to shape a script in a way that they think, the movie will make the highest box office earnings.  That can mean that there can be a bit of a formulaic approach when it comes to creating a movie based on the life of a public figure.  All of those who have actually read the Steve Jobs biography will be able to recognize any incorrect data expressed through the film.  We the viewing public will see if the film displays many of the profound business, creative, and artistic principles he incorporated into his products.  Time will eventually tell as to whether or not this film will be embraced.  The new Steve Jobs movie comes to a theater near you on August 16, 2013. 
Category: Entertainment News, Tech Talk