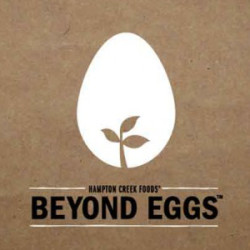 I was recently watching an episode of Bizarre Foods which airs on the Travel Channel.  The host Andrew Zimmern did a segment on an innovative food company named Hampton Creek Foods.  The company seemed so interesting that I decided to do some research on it and write an article on it.  The goal of Hampton Creek Foods is to create and constantly improve a plant based product that can be used to replace eggs, cholesterol and stop the abuse of chickens.  Hampton Creek Foods can create their products in a more economically feasible way.  They create their products with the intention to save money over comparable egg based products.  Hampton Creek Foods: Innovative Food Creation!
The investors for Hampton Creek Foods include: Bill Gates, The Founders Fund (Investors for Napster and Facebook), Khosla ventures, and Tom Steyer.  There is word that Al Gore who has recently turned vegan is considering investing in this company.  These investors are anticipating being at the forefront of plant based products and eventually outselling eggs completely.  This could turn Hampton Creek Foods into a very profitable corporation.  Creating a safe, healthy, plant based egg substitute could improve the cholesterol levels of many individuals who can't eat certain foods.  Since Hampton Creek Foods is located in Silicon Valley there is a level of science and technology that will go into the creation of their products.  Hampton Creek Foods: Innovative Food Creation!
The first product that Hampton Creek Foods has released is their mayonnaise substitute: "Just Mayo", which is now being sold in the Whole Foods supermarket chain nationally.  The company has also released the product "Eat The Dough" which is created for the consumer to bake cookies.  At the time of the airing of the Bizarre Foods episode on the Travel Channel which featured the company they were developing a new planted based scrambled egg product.  Andrew Zimmern was tasting it and said that there was only the aftertaste of the plant based ingredients in the egg substitute.  Josh Tetrick stated that the plant based scrambled egg product could start out as part of a burrito food combo.  Hampton Creek Foods has scientifically sifted through the molecular properties of 1,500 types of plants to find the specific types that would allow for the creation of mayonnaise, cookies, or scrambled eggs.  Hampton Creek Foods: Innovative Food Creation!
Hampton Creek Foods now has the opportunity to provide the consumer with an egg substitute that will enable them to enjoy their favorite foods, but from a plant based source with no cholesterol in the mix.  An individual will be able to scramble eggs for their family and not have to worry about excessive fat content being dumped into their daily diet.  Hampton Creek Foods is paving the way for their "Beyond Eggs" product to take a bite out of the sale of the egg and its marketshare.  It is also good to see these young entrepreneurs, chefs and scientists come together to create and constantly tweak a quality product.  With the kind of financial backing and support they have received thus far, this company can help to change the quality of foods and the health of the consumer.  Hampton Creek Foods: Innovative Food Creation!
Hampton Creek Foods Mini Documentary
Category: Entertainment News, Life Style, Tech Talk