Book Reviews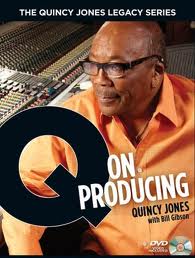 Q on Producing
By Quincy Jones with Bill Gibson
With the phenomenal success of Quincy Jones rising from obscurity to being the most successful producer in the world, there must be many secrets, tools, road maps, skills, and knowledge he must have acquired along the way.  He was not born with a silver spoon in his mouth.  There are those who feel that music is not an Art today.  Whether you can read music or not, there are certain elements that come together in the creation of a musical masterpiece.  This book details the art of music production through Quincy's eyes via the avenues of:   his personal history, composition skills, practical application, intuition,  his team, and philosophical beliefs.  One great thing he talks about in the book is "preparation and luck".  An iconic quote from the book is:  "Good luck usually follows the collision of opportunity and preparation – it's a result of that collision.  You've got to be prepared. So, make your mistakes now and make them quickly.  If you made the mistakes, you know what to expect the next time.  That's how you become valuable."
The book also details how Quincy has worked with artists in the past.  How he sets up the right kind of environment which helps to bring out the best in the artist.  It details his patience, persistence, intuition, gathered wisdom, and insight through working with artists of the past.  Here are some insights that LL Cool J has detailed about Quincy Jones in this book: "I think the most important thing I've learned from him is to keep my attitude right.  He has a free spirit and good energy."  "Another great thing that Mr. Jones taught me was about goose bumps in the studio and how they're God's divining rod. When you hear your music and it gives you goose bumps, you know the track is right; you know it's time to leave it alone."  This book is a collection of all Quincy's insights and knowledge distilled into it pages.  This book lets you know that success is not an accident.  It is a repetition of certain actions, thoughts, knowledge and philosophies  over and over.  There is definitely a path that you must take, it doesn't just happen like a magic trick.  The failures that you have along the way are part of your knowledge base.  This book is a classic. A text book for the modern producer.  Especially in a time when music (for some) is becoming a hustle not Art.   Enjoy.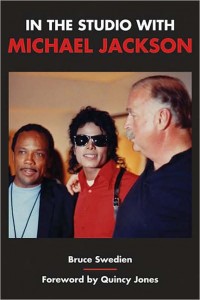 In The Studio With Michael Jackson
By Bruce Swedien
This book is iconic in that it details famed audio engineer Bruce Swedien and his work with Michael Jackson.  Bruce recounts the evolution from his early days to becoming part of the hit making team headed up by Quincy Jones to create the "Biggest Selling Album of All Time".  He also details his longtime friendship with Quincy.  This book shows all of the equipment used to make Michael's greatest albums: Off The Wall, Thriller and BAD.  The book shows pictures of the mixing board, speakers, effects modules and much more.  He details many of the events surrounding the studio sessions that gave birth to these historical albums.  The displays the microphones Michael used and the importance of properly recording that sound to prepare for the final mix.  The book is very detailed and filled with his personal philosophy for audio recording and engineering.  Bruce even details peaking through to see  Quincy Jones in his adjoining room as he scored the opening sequence for the WIZ with only paper and his mind.  There was no keyboard, piano or any instrument to assist.  This was in the early  hours in the morning before the actual deadline.   A very informative read.  Check it out.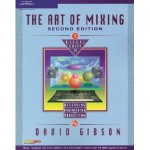 The Art of Mixing
By David Gibson
The Art of Mixing is a landmark book by author David Gibson which actually simplifies the science of audio engineering.  It uses visual diagrams to illustrate the audio concepts of panning, volume, EQ, reverb, compression, and much more.  By using colorful imagery (some of which is illustrated on the cover) David Gibson makes abstract concepts  very real and brings them into a 3D context.  This book also demonstrates the proper mix/EQ frequencies for different genres of music.  The Art of Mixing presents a wealth of audio engineering information and presents it in a fun and entertaining way.  This makes you want to refer to it over and over again.  It demystifies the Science of Sound.  There is also a DVD version of the book in which David Gibson shares his magic.

Lyrics By STING
Author: STING
There is an art to being able to convey a message that can go straight to the heart.  Many recording artists try to achieve this but very few can do it consistently over the course of a career.  Especially when many careers don't last long these days.  One artist that has had quality songwriting for a long period of time is STING.  He also did much of the writing for the group the POLICE.  STING released a book called: "Lyrics by STING".  It details the background information, mind-state, philosophy behind many of the songs that have become worldwide hits.  For example STING talks about the physical environment and political context in which he wrote the songs for 1983 POLICE album "Synchronicity".  For example: "This was our final studio album.  I wrote a lot of these songs in Golden Eye, Ian Fleming's old home on the north shore of Jamaica.  Britain had gone to war with Argentina over the Falklands.  Young men were dying in the freezing waters of the South Atlantic, while I was gazing at sunspots on a clifftop overlooking the Caribbean.  During this time I read Arthur Koestler, whose work in turn led me to Carl Jung.  The title of the album refers to Jung's concept of meaningful coincidence.  Synchronicity was recorded on the island of Montserrat in 1983."  There is a short description of "Wrapped Around Your Finger" which displays the mental atmosphere surrounding his song.  He states: "This song is vaguely alchemical and probably about a friend of mine, a professional psychic and my tutor in tarot, with bits of Doctor Faustus and "The Scorcerer's Apprentice" thrown into the pot for good measure."  You can observe the eccentricity of STING's  description and  combination of sources.  Interesting.
For the song "Every Breath You Take" he speaks of the irony of the songs simplicity and power: "I make no claims for any originality in this song.  It shares a chord sequence with a million other songs, the melody is nursery-rhyme simple, as are the lyrics, and yet the song has a kind of power.  I'd like to think that power lies in its ambiguity, in its being both seductive and sinister."
For the 2003 album Sacred Love he speaks on the ideas involved in the creation of the song "Send Your Love": "Great poetry doesn't necessarily make for great song lyrics, and vice versa, but sometimes a bit of William Blake or Shakespeare can set an idea in motion.  In the same way a jazz player improvising over the chords of one song will quote fragments of other standards, sometimes as virtuosity, sometimes for humorous effect.  I have often nicked pieces of our common poetic heritage and slipped them into my songs as collage respectfully and, I hope, effectively and seamlessly."
As I have always felt, the greatest songwriters tend to have some kind of philosophy and intelligence behind the polished expression of their art.  There are no accidents.  Check this book out.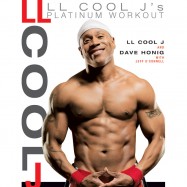 LL COOL PLATINUM WORKOUT
By LL COOL J and DAVE HONIG
The Platinum Workout details the journey and end result of taking your body from being just average to being chiseled and healthy.  LL COOL J details the diet necessary to obtain a well defined physique.  It is not just a bodybuilding book which only concentrates on the proportions of the body.  LL COOL J actually interviews a Registered Dietician in which he asks very important questions which actually seem to be designed to inspire the legitimacy of his workout and diet.  His name is Christopher Mohr, PhD, RD and he is the consulting nutritionist for the Platinum Workout book.  Here is one  Q & A from that interview:
LL: "What if someone hates vegetables?  Do they have to eat them or can they pass?"
MOHR: "Unfortunately, yes, you have to eat them because vegetables offer so many nutrients and are so good for your body.  Find vegetables you can tolerate, or incorporate them into your diet in ways that minimize their taste.  If you're have an omelet in the morning, mix in some vegetables and they'll be masked by the eggs.  If you want to throw a little Parmesan cheese on top of your vegetables, again to mask the flavor, that's fine, too.
It is the interviews and the health suggestions brought forth in this book which show that nutrition coupled with intense systematic circuit training can produce amazing results.  Those of us who have followed Hip Hop and LL's career can tell there was a drastic before and after in his physique.  This brought forth doubt, disbelief and even inspiration in how he achieved those results.  The publishing of this book dispelled those concerns for me in that the hard work and a systematic approach went into his transformation.  Here are a few foods he and his team highly recommend for consumption:
"Salmon: Canned or fresh, this fish makes the grade because it's loaded with omega-3 fatty acids.  These so called good fats can improve heart health and mental acuity.  Salmon is also a great source of protein"
"Walnuts: Here's another great source of omega-3 fatty acids and fiber"
"Spinach: Popeye was right – fresh or frozen, this leafy green vegetable is a great source of vitamins and minerals, particularly vitamin K.  It's also a great source of iron, fiber, and beta-carotene, a powerful antioxidant, meaning it's a disease fighter."
"Black Beans: They're a great source of fiber and a good source of protein and healthy carbs.  Studies have also suggested that their antioxidant levels rank highest among the bean family."
I guess you get the gist.  The book is packed with practical information concerning your workout, nutrition and the mental outlook necessary to achieve the desired results.  It's great.  Check it out.

BOB MARLEY
SONGS OF FREEDOM
This book is an epic coffee table book which details through pictures, words and direct quotes on the life and surrounding events of Bob Marley's.  To insure quality control Rita Marley is the executive editor.  One can tell by her comments on her husband that she knew and understood the importance of his musical mission.  It is unheard of for one artist to have so many songs resonate with so many people around the earth so deeply even thirty years after his death.  Bob Marley's music was made for a purpose higher than himself.  The title of the book "Songs of Freedom" depicts the  ultimate goal of his music and mission.  Here is a comment in the introduction of the book in which Rita Marley speaks on her late husband:
"The respect I had for Bob was more than just that of a wife.  It was because of what I saw him doing for the world.  And in himself not even knowing how powerful he was becoming.  I came to acknowledge him as someone who was so different.  It wasn't about just being great: it was about being really different."
After the introduction comes the chapter "The End" which details Bob Marley's  music and how it has impacted the world stage.  It talks about how his image has not just endured as your typical artists does, but as that of a great leader.  Here is a quote that explains that fact:
"Bob Marley's story is that of an archetype, which is why it continues to have such a powerful resonance: it embodies, among other themes, political repression, metaphysical and artistic insights, gangland warfare and various periods in a mystical wilderness.  It is no surprise that Bob Marley now enjoys an icon-like status more akin to that of the rebel myth of Che Guevara than to that of a pop star. And his audience continues to widen: to westerners Bob's apocalyptic truths prove inspirational and life changing."
The pictures in this book are spectacular bringing you and in-depth look inside the life of Bob Marley.  His music proves that music with purpose can move people.  There is so much more info in this book to mention.  So check it out for yourself.