Tech Reviews
 The Roland Fantom X8 Keyboard Workstation
Roland has been known to have some of the best all around  sounds period.  Imagine having a complete recording workstation all in one box.  As a company Roland was responsible for practically inventing some of the very popular and iconic early drum machine sounds.  These percussion sounds were the foundation for countless hits across several genres of music.  If you are a producer who still likes the feel of a keyboard and not just working through a controller and a computer the Roland is definitely an excellent option to look into.  Roland sounds are historic, emotional and very authentic.  This is a powerhouse workstation yet it will not make great music if the producer / composer does not strive to improve their playing.  It can only reproduce your level of talent.  Finding the right sounds, melodies and studying the great composers of the past will help to bring this workstations potential to full bloom.
The Fantom X8 is the top of line keyboard workstation in the Roland line up.   It has 1G of wave memory when fully expanded with its 4 slots for the SRX – expansion boards.  These expansion boards feature Dance, Hip-Hop, Orchestral, World Music, Vintage Synthesizer sounds and much more.  The Fantom X series is  the first keyboard to have a full color LCD screen to navigate through your musical sound scapes.  It comes with a CD-ROM DRIVE, a USB port for MIDI and .wave/aiff file exchange.  It comes with the Roland Signature Dynamic Pad Bank which makes for flexible drum programming and use of the sampling technology which is another feature of the Roland Fantom X8.  Check out the Roland Fantom X8 Keyboard Workstation at your nearest retailer for yourself.  Working on your craft and striving for excellence will help you realize the true power of technology such as this.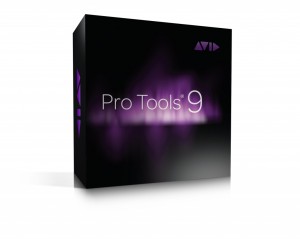 PRO TOOLS 9
By Avid
Over the years Protools has become the industry standard in the world of digital audio recording workstations in the home, recording studio, film editing  and scoring rooms.  There was a time that you either had to have major money to have your own studio.  Even if you did own one due to limited technology, it could only just be considered a pre-production studio.  On the other side of the coin an artist or producer would have to save money in order to book studio time.  With this option you could only tweak a song to the extent of the money you would be able to invest in actual studio time.  Today with a great program like Protools (technological breakthroughs) you can have a complete studio with almost unlimited editing for thousands of dollars less than the former traditional options.  You will be able to go as far as your talent and knowledge will take you.  There is definitely a learning curve necessary to master many digital audio workstations.
  Along with the usual standard goodies Protools comes loaded with: Great Visual Board, Faders, Visual waveform editing, Multiple EQ plugins, Compression, Reverb, Delay, Beat Detective, M-box  and the Digi 003 Control Surfaces.  One big difference is that it is not mandatory to use only AVID hardware / interfaces on the Protools software package.  You can now use any interface  you feel comfortable with, from any compatible company.  Avid now has drivers you can download to make the necessary adjustments.  You can now bounce and burn an MP3 directly from Protools.  There are no longer separate LE and M-Powered versions of the program.  There is just one single product with more standard tracks: 96.  Word has it that the current management team at AVID has made a concerted effort to listen to its customers needs and complaints.  Many of the major changes that have been implemented in Protools 9 are a result of customer online engagement with the company.  Many of its competitors have made some of these changes with previous versions of their software.  It really pays stay on top of change or you will get steamrolled by it eventually.  Protools 9 continues to be an industry standard, so do your research and check out some demos.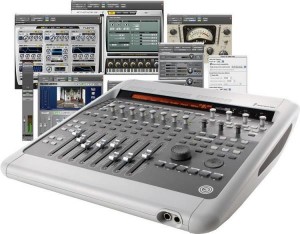 DIGI 003 Factory Complete 
(Protools Hardware Interface)
By AVID
For those who want to use a Hardware Interface, the DIGI 003 is definitely a viable choice.  The hardware with the Complete Protools package is called: DIGI 003 Factory Complete.  The package is not just a basic Protools package.  It comes with many  special added value features for the sound and visual professional.  No matter how enticing using your favorite computer can be, a dedicated piece of hardware designed only for your musical needs can bring your studio up a few notches in terms of comfort and ease of use.  Here are some of the major feaures of DIGI 003 Factory Complete below.
FEATURES:
Profesional 003 Factory system, 8-faders, with Audio / Midi interface
Recording, Editing and Mixing capabilities with Protools Software, 70 virtual instruments, effects plug-ins, and more than 8GB of pro quality loops.
The Complete Production Toolkit will expand the Protools Software with the ability for the engineer to mix in 7.1 surround sound, and up to 128 simultaneous audio tracks.
Professional Midi Sequencing with MIDI Editor Window.
Integrated Score Editor based on Sibelius notation software.
DINR LE intelligent noise reduction (Plugin)
Time Code and Feet & Frames  functions.
Pro tools MP3 option for exporting MP3 files.
Power at your fingertips!!!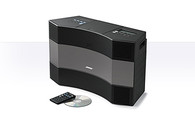 BOSE ACOUSTIC WAVE Music System II
     The flagship music system by BOSE plays CD's,MP3's, radio, and you can now play your IPOD with the BOSE dock station.  The docking station charges your IPOD while it is playing.  There is a new remote which operates the system as well as certain IPOD functions.  The system includes a FM dipole antenna, a demonstration CD, and a RCA audio cable.
     There are two 4 1/2″ drivers which work with the Wave Guide Technology to reproduce the music's bass (low end) notes with clarity and punch.  The actual waveguide is 80″ and when it is working with the 4 1/2″ drivers it allows for the rich bass to emanate well into any space from this small module.  There are also two 2 1/2″ stereo drivers which are responsible for mid-range and treble sounds.  The Wave Guide speaker technology actually sends the sound of the 4 1/2″ drivers through the Wave channel and enhances the sound.  There is also an available optional rechargeable power pack which allows for up to 12 hours playing time from a single charge.  There is a also a battery indicator.  The battery charges in less than three hours and also can fit in a travel case.